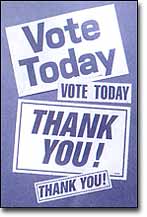 For Immediate Shipment
Campaign courtesy is always appreciated. Our VOTE TODAY & THANK YOU signs and bumper stickers will help you out. Screen-printed in red, signs (14" x 22") and bumper stickers (3 3/4" x 14 1/2") are always available.
Single signs $0.90 ea.
Assembled signs $3.05 ea.
Bumper stickers 60¢ ea.
Note: Signs shipped in bundles of 25 only.
Union label available.