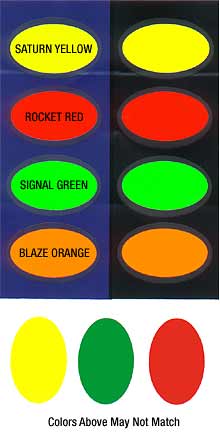 General Information
Art
Any design similar to those pictured in the catalog, or reproduction of your artwork, is free unless indicated otherwise. If additional art preparation is required, a price will be quoted on receipt of your order, before work is begun.
Disclaimers
Please be sure to submit the correct copy to meet any identification requirement your state may require.
Prices
Prices are subject to change without notice.
Production
Production time required is indicated on each item, and starts on the day following receipt of your order to the day shipped. Normal productions schedules may be changed due to unforseen circumstances. If you have an emergency deadline, please contact us directly.
Repeat Orders
Please indicate previous year order was produced.
Shipping
All freight charges are additional, and normally are 2 to 15% of total order depending on weight and distance shipped.
Terms
Fifty percent (50%) deposit and balance on delivery on all orders.
Union Label
If available, the union label will be put on all products unless otherwise requested.
Standard Colors
Standard imprint colors are available on all products unless indicated.
1 Color
Standard imprint colors are black, blue, red, yellow, green, maroon, purple and white. Yellow or fluorescent colors not recommended on one color items.
2 Color
Choice of one fluorescent color, when available, and one standard color or two standard colors. Standard fluorescent colors are rocket red, blaze orange, saturn yellow and signal green. Fluorescent colors will tend to fade in time.
Color Match
Add $50.00 to match other colors. Please note that we cannot guarantee an exact color match, and color matching is not available on all products.
Higher quantity prices available, please contact us.